Filipino cuisine is distinguished by its bold combination of sweet (tamis), sour (asim), and salty (alat) flavors. While other Asian cuisines may be known for a more subtle delivery and presentation, Filipino cuisine is often delivered all at once in a single presentation.
Common foods and dishes
As with most Asian countries, the staple food in the Philippines is

rice

. It is most often steamed and served during meals.
A traditional Filipino breakfast might include:
Bagoong
Pinakbet
Bicol express
Laing
Pinangat
Buko pie
Panutsa
Chicken Inasal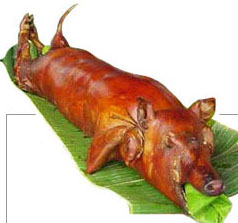 Lechon
Dried mango
Variation of Dried fish (salted or unsalted) like: squid, danggit and dilis.
Chicken pork adobo
Bistek
Crispy pata
Mechado
Kaldereta
Afritada
Sinigang na baboy/pork
Sinigang na bangus/milkfish
Sinigang na hipon/shrimp
Tinola
Nilagang baka
Arroz caldo
Goto (both best serve with tokwa't baboy - fried tofu and pork)
Tokwa't baboy
Dinengdeng
Pinakbet
Ice candy
Isaw
Barbecue
Betamax
Adidas
Kwek-kwek
Fishball
Sorbetes
what's called "balut sa puti" ("wrapped in white").
Balut
Taho
.